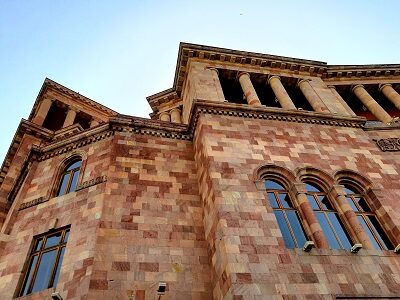 Yerevan: Modernism as Armenian identity
With Yerevan's construction boom coinciding with Armenia's Soviet history, modernism in this Caucasian capital isn't just an architectural period but an important part of the country's cultural identity. Initially grand neoclassical and later severe brutalist, Yerevan's urban design first signalled the reset of a provincial Ottoman backwater and later conserved the image of the capital city of Russia's most loyal client state in the post-Soviet Caucasus.
It all began in the mid-1920s with Alexander Tamanyan, the famed Russian-born Armenian architect who created the overall, sun-shaped layout of the modern city of Yerevan. At its core was neoclassicism, similarly favoured by Stalin in the transformation of early Soviet cities, but with an added local flavour that features façades wrapped in the signature red tuff stone and ornate carvings, also seen on medieval churches throughout Armenia.
In Yerevan, the grand Tamanyan urban master plan manages to achieve three things at the same time: it skilfully incorporates the topographical relief of the city, installing its central part in a natural amphitheatre, its overarching theme makes the city's buildings appear uniform, and its grandiose scale gives the tiny modern-day Armenia an oversized, dignified and truly global capital that is nothing short of fit for a former empire.
The modernist Yerevan, which in time turned brutalist with the growth of industries and giant residential estates, now also symbolises a rebirth of the nation decimated by the genocide by the latter-day Ottoman Turks. Armenian architects who had once designed foreign masterpieces, including the Ottoman empire's iconic Dolmabahçe Palace in Constantinople, were in the post-Tamanyan era at last free to build their own monuments.
These include Tamanyan's awe-inspiring edifices in the Republic Square as well as his circular Opera House, Tiran Terkanyan and Gevork Kochar's constructivist Moscow Cinema and – my personal favourite – Armen Aghalyan's National University of Architecture and Construction with its elaborate tracery. It's to the credit of Tamanyan and his followers that so many new buildings in Yerevan still line their façades in his signature stone.