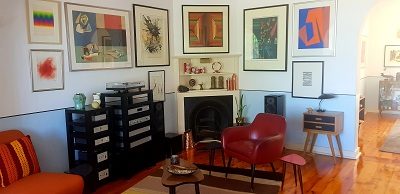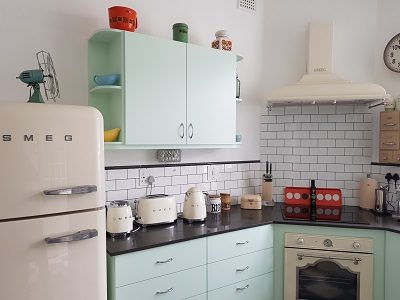 Welcome to my midcentury time capsule pad

Midcentury décor has always been a backdrop to my life: from my formative years when my grandparents' taxidermy birds stared at me ominously from the walls to my early twenties when, in my various student dives, the first purchase I would always make, before anything useful like a bed, was something hopelessly impractical, such as 1950s blood-red Jiffy-Way egg scales. So when the time came to own my first real home, my taste and style had already been honed enough to create a fully-fledged midcentury time capsule pad.
In my mind, the 1950s and '60s were filled with exuberance of the post-war boom when homes were built and interior-designed for comfort and fun. Modernity was the buzzword, with novel technologies present in kitchen appliances or space-age motifs on fabrics and plywood surfaces. Pastel colours made for cozy bathrooms while formica tops and fiberglass lamps became interior decorating statements. Looking back from where I stood some five decades on, it was impossible not to marvel at and collect relics of that era.
… pastel colour schemes were huge in postwar décor and they are well represented on my walls, fabrics and furnishings.
To house my growing collection, I found and bought a fabulous apartment at Kingsfold – a grand interwar, Berea Union Style building in Durban. Behind its imposing colonial façade, uniquely South African architectural elements that were thought appropriate for the hot and humid Durban climate, such as colonnades, quietly emerge. In the interior, they are combined with fine plaster detailing, arches and alcoves. Kingsfold also has traces of an Indian vernacular, incorporating arched verandas and airy open spaces.
Creating my retro time capsule required a renovation as lengthy, costly and frustrating as any. In the end, it unearthed some seriously gleaming Oregon pine floors and newfound space in the remodelled kitchen and two bathrooms. It also brought in checkerboard floor tiles, Parisian subway wall tiles, vintage light fittings, bakelite toggle light switches and pastel-coloured kitchen cabinets. After all, pastel colour schemes were huge in postwar décor and they are well represented on my walls, fabrics and furnishings.
… I pay tribute to design classics that weren't made to self-destruct but I also like to think I'm helping to reduce landfill waste.
Which brings me to my collection of midcentury furniture and accessories. The style gave us clean lines, organic curves, a love for different materials and designers whom we idolise to this day. It gave my home a 1950s Beautility home bar sideboard, a 1960s Trafford vinyl armchair, an interplay of melamine, formica, plywood and bakelite and a 1958 Peter Løvig Nielsen Brazilian rosewood teak desk, my pièce de résistance. Scattered among these, as I juggle and declutter, is all manner of loot from places I have seen.
My first instinct when I collect is to recycle, repurpose and reuse things that already exist. In doing so, I pay tribute to design classics that weren't made to self-destruct but I also like to think I'm helping to reduce landfill waste. Only when I'm overwhelmed by the hassle of analogue electrics do I opt for modern things – as long as they come, as the SMEG retro kitchen range does, with a vintage charm. And then there's, of course, the adrenaline rush of a perpetual treasure hunt, the kind that also takes you places around the globe…