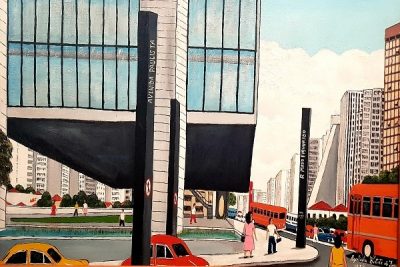 São Paulo's floating art museum

Right in the middle of the concrete jungle that is São Paulo, where high crime rates dictate that buildings be heavily fortified and where walking is not really an option, stands a true symbol of freedom. The surreal and gravity-defying structure, which is really a large box suspended from four red pillars along the Paulista Avenue, is the São Paulo Museum of Art (MASP).
Its Italian-born architect and the doyenne of Brazilian modernism, Lina Bo Bardi, in her own words about this 1968 brutalist design "…didn't search for beauty, (but rather) searched for freedom". Walking underneath the suspended box, as I did, is indeed a strange experience, producing at once feelings of anxiety and liberation, particularly at the sight of the oppressive urban density all around it.
The glass and concrete structure whose floating body is supported by two lateral beams over a 74 metres wide freestanding space ensures that the open plaza underneath it is entirely occupiable. This open space thus fulfills the stated wish of José Borges de Figueiredo, the investor who sold the plot of land to the São Paulo City Hall, that the grounds be preserved as a "public place in perpetuity".
The innovation does not end on the outside but continues as one enters the floating building through a staircase inside the pillars. The standard practice for museum design is to isolate viewers from the outside world, as if art existed in a vacuum. Bo Bardi's open plan museum defies the convention by allowing the exhibition area to mix artworks and visitors into a 'democratic' environment.
The display is entirely haphazard – in further defiance of chronology and hierarchy between individual artworks. Within this scheme, each painting is mounted between two glass sheets that produce the suggestion that the panels and canvases are suspended in mid-air – much like the museum itself is suspended in the centre of the enormous city. Visitors are allowed to walk all around each painting.
Then there are the paintings themselves. MASP houses what is said to be the most important art collection in the Southern Hemisphere, with its European works represented by Giovanni Bellini, Mantegna, Botticelli, Titian, Tintoretto, Goya, Delacroix, Van Gogh, Renoir, Monet, Picasso and others. Notably, the museum also holds the only Raphael to the south of the Equator – The Resurrection of Christ.
On the home front, the museum showcases an impressive survey of Brazilian art from which Agostinho Batista de Freitas stands out for its comic-book depictions of the city of São Paulo, including depictions of MASP itself. His paintings swarm with people and traffic against the backdrop of São Paulo's urban monstrosity. When Bo Bardi said she didn't search for beauty but for freedom, she meant every word.