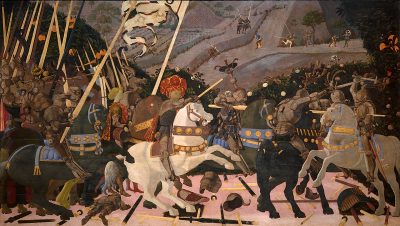 Pop art in Uccello's Battle of San Romano

The cartoonish quality of Paolo Uccello's majestic Battle of San Romano, which hangs at the National Gallery in London, antedates many later artistic developments. In the mid-1400s, when it was painted, the picture must have seemed as sensational as it does today with its precise, bold outlines demarcating planes of intensely vibrant colours that are the hallmark of Michael Craig-Martin, or the depiction of round, corpulent animals that are the trademark of Fernando Botero.
Yet the busy and excessively decorated canvass marks the peak of International Gothic in Florence during the time of its creation. This is a style of courtly sophistication with exquisite decoration, often executed in gold and silver leaf, which is now tarnished in Uccello's painting. Then there are examples of exotic clothing, such as the hat of Niccolò da Tolentino, the Italian condottiero who is leading the Florentine forces against the Sienese, while some figures seem to be included in the picture just to show off their elaborate armour.
The painting is also one of the earliest exercises in linear perspective in the whole of Western art. This, according to Giorgio Vasari, was Uccello's obsession, as can be seen from his foreshortened images of scattered weaponry under the hooves of the prancing horses: each of the broken lances has a near-perfect vanishing point. All this hard work by Uccello, who was also a mathematician, is strangely negated by a complete lack of perspective in his depiction of the lush vegetation of rose and orange hedges behind the main cavalry scene.
It is also clear that Uccello's representation of the battle of San Romano is an idealised, bloodless fight, with some of the costumes and weapons more suited to a military parade than a real battle. This makes the artist's Battle of San Romano more reminiscent of an Arthurian romance than the actual fierce skirmish that occurred between the Florentines and the Sienese in 1432. The picture in the National Gallery is of course only one segment of a monumental triptych, the other two parts of which now hang in the Uffizi and the Louvre.
Uccello's skill as a chronicler of the famous Italian battle is as impressive as his penchant for underlining the romantic appeal of medieval chivalry. But his Battle of San Romano is not merely a visual feast of its time but an anticipation of what is to come in Western art. Uccello's imagery of equestrian figures is super-imposed on the verdant countryside like a collage that in its day would have shimmered with real gold and silver. As such, it is pure pop art, albeit in its ancient Gothic form.