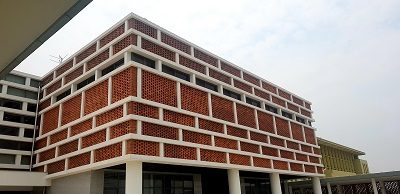 Opening soon: Kinshasa's new national museum

If any one country in Africa should be obliged to showcase its cultural treasures by way of a national museum, it is the Democratic Republic of the Congo. The country's visually stunning and spiritually charged tribal art spans several centuries and as many as 250 ethnic groups. Their elaborate masks, costumes and musical instruments were, of course, never intended for purely decorative purposes but rather as objects of everyday use that connected their users with ancestors in ritual performances. But removed from this context and placed on public display, these objects now represent some of the finest works of African art, design and craftsmanship. As objets d'art without the spectacle of ceremonial use, they still illuminate the lives and belief systems of various Congolese tribes.
The idea of a national museum came from the former dictator Mobutu Sese Seko in the 1970s. As part of authenticité, a broader mission of purging the Congo of colonialism, Mobutu dropped his own French first name, rechristened his country as 'Zaire' and redefined its identity, including by constructing a national museum. This being Mobutu, now chiefly remembered as an eccentric with the trademark leopard-skin hat cocked to one side, the result was a curious one. On Mont Ngaliema, the site of the first settlement built in modern-day Kinshasa by Henry Morton Stanley, Stanley's statue is still gazing towards the Congo River alongside an equestrian statue of his employer, King Léopold II of Belgium, and the rusting cage that back in the day held one of Mobutu's pet leopards.
Mobutu's national museum, for all its original hype, is a modest, dimly lit one-room repository of poorly labelled masks and spears. It's where a lone air conditioner rattles as it exudes tiny puffs of cool air and where whole days can pass without a single visitor. This is clearly not what Mobutu had in mind when he urged Belgium to return all its pillaged artifacts, still on display at the magnificent Royal Museum for Central Africa near Brussels, one of Europe's most visited sights. Of much more interest to the visitor than Mobutu's tatty display is the adjacent warehouse where some 50 000 tribal objects are languishing together with Mobutu-era recordings of histories and cultures of the Congo's ethnic groups. This amazing ethnographic archive can be viewed – for a small bribe.
But things are looking up – after two decades of delays and as many civil wars – as the national museum's new home nears completion. Built as part of a $10-million prestige investment from South Korea in Lingwala on one of Kinshasa's main boulevards near the Palais du Peuple, the country's parliament and the national stadium, the brand new Musée National de la République Démocratique du Congo (MNRDC), is a sight to behold. The three rooms I was lucky to preview as the lone foreigner on site ahead of a vague opening date in the near future were simply world-class, with meticulously tagged and digitised displays. Unlike in Mobutu's haphazard old museum on Mont Ngaliema, there's evidence of curatorship based on chronology and context and lots of help from Belgium and South Korea.
What the new museum shares with the old one is the determination to put the country on the map. The new premises are an invitation for more Congolese to engage with the past and to forge a sense of national unity in a country splintered by violent conflicts. The new museum also makes a more articulate case for the return tens of thousands of African artifacts from European and American museums, even as the Congolese now acknowledge that many valuable pieces disappeared from their storerooms after independence, only to reappear on international antique markets. But the new museum is about the nature of foreign aid as well. The donors have now shown that they are capable not just of vaccinating children, but can pull off a big cultural project like a national museum, too.