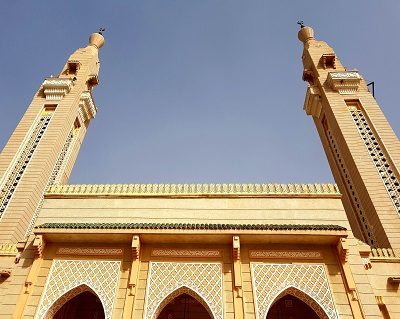 Nouakchott: Mauritania's shell-studded capital

Spread out along the coast between the Atlantic Ocean and the Sahara desert, Nouakchott is simultaneously a very busy market town and Mauritania's rather sleepy capital. In the late 1950s, it was little more than a fishing village but it has since grown fast to absorb desert nomads driven here by droughts that killed their animals and livelihoods. Its culture remains nomadic, with tents pitched in between low-rise candy-coloured buildings and camels parked outside people's homes like cars. There are few fixed addresses along its dusty, sand-covered streets. The town looks as if it could pack up and move at any time.
By all accounts, Mauritania was once a bustling area, with busy caravan routes traversing it between Morocco and Timbuktu in modern-day Mali. In their heyday, the caravans were laden with gold, salt and slaves and brought great prosperity to the local Muslim Berbers. The Almoravid dynasty, which ruled the area, lasted only a hundred years between the 11th and 12th century, but commanded vast lands from Mauritania to Islamic Spain from its capital in Marrakesh, a city it founded. Much later, Mauritania became a French colonial backwater whose main legacy is that Mauritanians still speak French in addition to Arabic today.
"To our amusement, scattered in the desert sand we found a great many wine bottles – in a country that was supposedly strictly dry"
Some of this ancient history can be gleaned from the crumbling exhibits at the National Museum of Mauritania, an underfunded third-world institution in downtown Nouakchott. My friend Cohen, who accompanied me on this trip, and I reached the museum after a long tour of Nouakchott's ATMs which kept declining our foreign MasterCards one by one until we, with the help of a local Good Samaritan, found one that dispensed the much needed Mauritanian ouguiya. We also stopped by the Saudi-funded Mosque Saudique whose twin towers dominate Nouakchott's modest skyline, but were denied entry by an overzealous gatekeeper.
Our walk along the dusty streets, where the sandy pavements are ingeniously reinforced with millions of sea shells, also took us to Galerie Zeinart, an oasis of peace and good taste in the sometimes overwhelming Nouakchott. The art for sale here is curated with great care and gives a good insight into Mauritanian and regional art scene. The gallery's Portuguese owner, Isabel, is warm and engaging and a great source of local knowledge. Her key recommendations were Nouakchott's Institut Français for great food and live music and Bilal, a mercurial taxi driver, who got us stranded in the desert during a memorable tour out of town.
Bilal drove his wreck of a car like a madman, in the great tradition of the Dakar Rally which used to cross Mauritania before being moved to South America due to local security threats. The car broke down in the desert outside Nouakchott and while the animated Bilal was arranging help by telephone, Cohen and I explored the turf. To our amusement, scattered in the sand we found a great many wine bottles – in a country that was supposedly strictly dry. The existence of this desert bar was eagerly confirmed by Bilal who happened to share in this Mauritanian pastime. With the car fixed, the tour continued with Bilal's driving no more careful than before the breakdown.
The enduring memory is of the hectic and colourful Port de Pêche, or Fishermen's Beach, on Nouakchott's shore. This is where hundreds of men and boys drag their daily catch to the market on the same beach where it is sorted, gutted and sold. This is where the sharp Saharan sun shines on boldly painted pirogues bobbing on enormous waves and where the local Arab and African fishermen gather daily to work and socialise in their baby-blue robes that billow in the desert wind. This was the image of Mauritania we took from Bilal's erratic tour as we made our way home along the shell-studded pavements of Nouakchott.