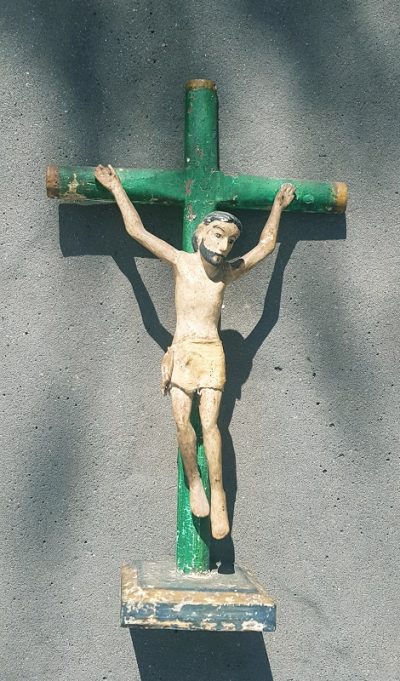 Museum with a takeaway menu

It is not often that a museum will let you purchase an item from its collection as a souvenir so, as an antique collector who usually has to contend with just a museum catalogue, I jumped at the opportunity to walk away with an indigenous Paraguayan crucifix. The museum that made this possible is Museo del Barro – Asunción's undisputed highlight.
Tucked away on the outskirts of Asunción where it is quite difficult to find, the museum began as a private circulating collection and only later acquired its current permanent location. This is largely an ethnographic museum where perfectly preserved pre-Colombian pottery sits alongside intricate lace weavings from the 18th century known as ñandutí.
There is also a fine collection of startling ritual masks of the Fiesta del Kamba Ra'angá, a pagan festival that is still celebrated in the mountains of Paraguay today. The masks have a distinct African and Polynesian feel. But the main draw, at least for me, was the museum's plentiful display of local Franciscan religious art, ranging from more academic Spanish colonial style to naïve Guaraní folk art.
The latter, as one would expect in Paraguay, predominate in the rooms overflowing with Jesuit figurines of santos and crucifixes. The impact of local pre-Columbian crafts in these wooden figurines is striking. Whether due to a lack of formal woodcarving skills or as a means of self-identification of indigenous communities , these statuettes have a unique character of real people by whom and for whom they were created.
The seemingly endless rows of crucifixes were carved in vivid detail, then painted and often adorned with glass eyes, wigs, and real clothes. Their heightened realism was intended to provoke a powerful emotional response, stirring the viewer to greater religious devotion. Today, centuries since their creation, they still evoke powerful emotions from visitors to Museo del Barro, perhaps not so much to promote adherence to the faith but as exquisite works of art.
The crucifix I chose to buy is overtly primitive in execution with the body of Christ clad in a real textile loincloth hanging on across painted in unusual green. The figurine has obvious indigenous facial features and its complexion is darker than the conventional depictions based on imported Iberian models. The antique crucifix I was able to purchase and take home was a nice touch from the museum that would have left a deep impression regardless.