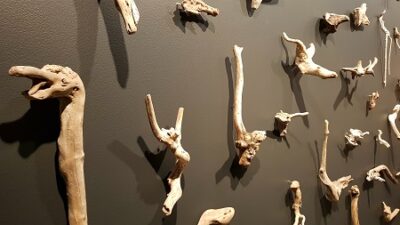 MCA Australia: Aboriginal art made contemporary
Contemporary art, in my experience, begins to make a lot more sense when you realise it's actually a genre of art making. It's typically multimedia and tends to engage with a limited range of subjects, usually centred on thematic cross-referencing or popular culture. Its popularity is based on the familiarity its audience has with its tropes. If you grew up with contemporary art, like the bulk of the millennials I ran into at The Museum of Contemporary Art (MCA) Australia in Sydney, it all seems pretty familiar.
The venue itself cross-references a grand waterside Art Deco building with a new wing consisting of black and white boxes with angular windows. Like much else in Australia, it's cutting edge. Collecting and displaying contemporary art has to do with Maslow's hierarchy of needs: first-world countries boast first-rate contemporary art spread out across sleek spaces whereas third-world countries struggle to put a fresh coat of paint on colonial-era museums with art that's almost never contemporary.
Since 1991 when it was launched as a legacy project of Australian expatriate artist JW Power, the MCA Australia has grown into an imposing national institution dedicated to collecting, exhibiting and interpreting contemporary art, both from across Australia and around the world. It initially sought to acquire mainly international contemporary art but after undergoing a curatorial shift in 2002, it has steadily increased its emphasis on Australian artists. The results are really quite impressive.
Apart from the usual international suspects in the league of Cindy Sherman, Keith Haring or Marina Abramović, the museum is now largely devoted to living contemporary Australian, Aboriginal and Torres Strait Islander artists, from sculpture to painting, photography, video art and installations. After all, these are the works an Australian national institution may wish to showcase most and its foreign visitors may want to explore first given the international character of contemporary art as a genre.
Like most genres, contemporary art can be reinvented from familiar parts and the museum's Aboriginal artists in particular manage to transcend the familiarity of generic contemporary art. Traditional motifs rendered on plastic or on video appear optically dazzling and the effect makes you want to re-look at Indigenous painting in its traditional forms. It all falls into place in the simple white-walled interior and against the backdrop of the views of the Sydney Harbour Bridge visible from the upper floors.