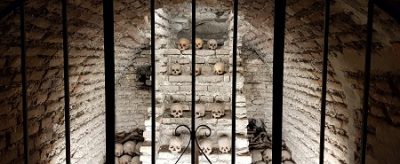 Lima: Franciscan monastery for the bone collector
A 13th-century legend has St Francis of Assissi preaching to birds in the Umbrian countryside. In what seems like a nod to the mystic friar, halfway around the globe in Lima, the Peruvian capital's Franciscan monastery, dedicated to the saint, attracts swarms of pigeons on the patio out front. Street vendors may be selling seeds to tourists to keep the birds coming but the symbolism is there. The canary-yellow edifice is a riot of Spanish Baroque above the ground and a spooky ossuary below.
Once the centre of Spanish power in Latin America, Lima's old colonial centre certainly looks the part. Built on a grid, the Cercado de Lima has a magnificent church at nearly every corner. The Catholic Inquisition, working in tandem with the colonial governments, waged a war against native religious customs, rites and medical practices and it needed lots of pulpits to accomplish this. What remains of this difficult history today is a network of religious buildings of architectural beauty.
One of them, the Monastery of St Francis is located one block northeast from the Plaza Mayor. The vast religious complex made of the main basilica with a signature granite carved portal and twin bell towers, the monastery and two additional churches, was completed in 1674. It is notable for its grand Spanish Baroque architecture complemented by Moorish geometric designs and Sevillian tiles. It has survived several earthquakes, the most recent and most damaging of them in 1970.
The monastery has a world-renowned library with a superb collection of some 25 000 ancient texts, some of which arrived with the first wave of Spanish missionaries after the conquest of the Incas. The refectory boasts 13 paintings of the biblical patriarch Jacob and his 12 sons attributed to the Spanish master Francisco de Zurbarán. Also interestingly, The Last Supper by Diego de la Puente depicts Peruvian ingredients, such as potatoes and chillies, instead of conventional European fare.
Most tourists, however, visit the monastery for its catacombs. Long forgotten, the catacombs were rediscovered in 1943 and are believed to be Lima's original cemeteries connected via subterranean passageways to local churches. The underground ossuary is home to an estimated 70 000 bodies, many of exposed and neatly stacked in strange patterns in circular stone pits. For the true connoisseur, the decoratively arranged bones are also visible through openings in the floor of the basilica.