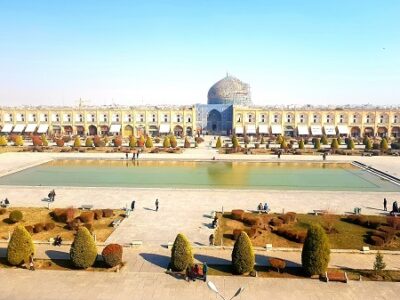 Isfahan's Shah Square looks the part
With some of the best Persian architecture, Isfahan's Shah or Imam Square – depending who you ask – is one the grandest public spaces you'll find anywhere in the world. The main square of the former imperial capital of Persia looks the part. It incorporates the three main centres of power in the empire: that of the clergy represented by the Shah's Mosque, that of the merchants based in the Imperial Bazaar, and of course, the power of the Shah himself, residing in the Ali Qapu Palace.
This former polo field is formally known as the Naqsh-e Jahan Square and most of what you see here was built by the Safavid Shah Abbas in the 17th century when his capital was established here. The perfectly proportioned square is a sea of turquoise domes, blue-tiled mosaics and entrance portals with niches with stalactite mouldings in honeycomb patterns. Although each building is a masterpiece on its own, it's the unity of the square's overall design that leaves a lasting impression.
The most-photographed portal, some 30 metres tall, belongs to the Shah's Mosque. It's a riot of floral motifs, geometric designs and Islamic calligraphy. Although the portal faces the square, the mosque is oriented towards Mecca – as it should be – and the misalignment is camouflaged with an angled corridor. The sanctuary is famous for its acoustics: the sound echoes through the building from a central point under the dome, allowing the imam to be heard by everyone in the mosque.
Built to impress is the multi-level gateway to the Ali Qapu Palace that lies beyond – a 16th-century highrise. Its elevated terrace with slender columns dominates the square and the wooden ceiling above is a marvel of inlay work. In contrast to the spacious terrace, the highrise is strangely cramped inside, with narrow staircases leading to equally small rooms. The highlight of the palace is the music room on the upper floor. Its stucco ceiling is a prime example of secular Persian art.
The historic square is, above all, a living and working neighbourhood. Parts of the sprawling Bazar-e Bozorg, which takes up sections of arched passageways on one side of the square, go back centuries and are still going strong today. The bazaar is a maze of lanes, many of them of a single trade, such as carpet or spice vendors. Perhaps the most atmospheric of all is the coppersmiths' passage where the sound of beating hammers best evokes the bustle of the Imperial Bazaar of old.