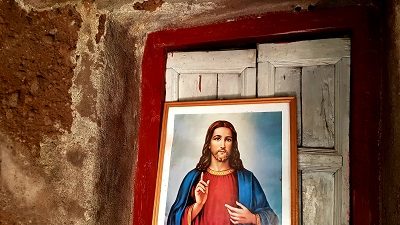 In defense of church hopping

I don't profess to be particularly religious and I do frequent churches way more often as a tourist than a devout parishioner but I also do identify, with a measure of pride, as a Catholic. To my mind, Catholicism has inspired much of the medieval and Renaissance art which I admire and the Judeo-Christian tradition has shaped Western culture to which I subscribe.
One thing I do like to do is to attend church services in different countries where I travel as a tourist. What follows is not a study into how religious commitment varies from country to country nor is it an attempt to interpret, explain or categorise international religious practice in any systematic way. In my recreational church hopping, I am merely a keen observer of life.
It all started during a trip to Kerala, south India, which is incidentally called 'God's own country'. Next to my hotel in Trivandrum stood a Syrian Orthodox church and the singing coming out of it on a Sunday morning was some of the best choral music I had ever heard in any concert hall. With the Sunday mass in Malayalam, St George's Syrian Orthodox Cathedral was a true Damascus experience.
Still overwhelmed, during my next visit to Venice I made a conscious effort to attend a Sunday mass at St Mark's Basilica. Contrary to my expectations, the mass didn't take place in the nave but in a tiny side chapel. It was a family affair with only nine other worshippers and a young Asian chaplain for whom Italian was as much a foreign language as it was for me but somehow it all came together beautifully.
To a Catholic, the Catholic mass offers a warm comfort of familiarity due to its standard layout that allows one to follow the liturgy in any language. Unlike the countless Protestant and Orthodox denominations where church service can be a strangely unsettling experience, the Catholic Church is a giant multinational with a global network of branches. Standard service is more or less guaranteed across the entire franchise.
Not so much in the Philippines where I set out to attend the Sunday mass in Manila's historic Binondo Church. One of the country's oldest, the church is a jewel of Spanish colonial architecture. The thumping enthusiasm of the congregation was not diminished by the stifling heat inside the church. The mass felt like a Pentecostal joyride until I got sharply reprimanded for fanning myself with what turned out to be a Tagalog hymn book.
In stark contrast to the ornate nature of Catholicism stands the deliberate austerity of Lutheran churches. In Frankfurt where I went to see the Kaiserdom or the former coronation church of the Holy Roman Empire, the simplicity of its red brickwork and whitewashed vaults was on full display. It was a Sunday so I stayed on for the service. It felt oddly detached with everyone lost in private contemplation rather than engaged in communal worship.
A decidedly more spiritual experience awaited me in Moscow where I walked into a wedding ceremony at the Russian Orthodox Yelokhovo Cathedral. Its baby blue and white interior contrasts well with the gold-plated interior which is a riot of the Russian Late Empire style. This is also where Pushkin was baptised in 1799. The incense-laden wedding ceremony was officiated by an opulently adorned priest. His baritone chant was otherworldly.
If you are in the mood for even more otherworldly, visit Adadi Mariam – a 12th-century rock-hewn church a day trip away from Addis Ababa in rural Ethiopia. Unlike the more famous rock-hewn churches at Lalibela, this is a purely functional church lacking in any decoration apart from makeshift religious posters on the walls. Like in all Ethiopian Orthodox churches, the sacraments are hidden from view of the congregation which, for me, only amplified the mystery.
My latest and most complicated visit has been to an Armenian Orthodox Church in Isfahan. The Bethlehem church was access-controlled due to Iran's restrictions on non-Islamic religions and my Muslim guide was denied entry. As a Catholic, I had to bargain hard for myself. The lengthy Sunday mass was definitely worth it. The close-knit Armenian congregation provided a moving backdrop to an all-female choir. I would do it all over again!