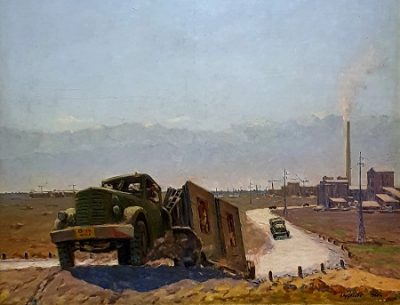 Girl Meets Tractor 2.0: Central Asia
I had written about the Soviet art in Moscow, its spiritual home, before my fascination took me for a Socialist realist spin to Central Asia, the USSR's distant, 'colonial' periphery. This was the largest Muslim-majority region to experience Soviet rule during the 20th century and I was interested to see how this particular demographic did respond to state-sanctioned art that made so little provision for the individual, religion or ethnic nationalism. I got my questions best answered in Bishkek, Kyrgyzstan.
The Soviet Union sought to modernise the region it inherited from the Russian Tsars and present this modernity as an example of what Soviet communism could bring to the Islamic world and to developing countries more broadly. The Gapar Aitiev National Museum of Fine Arts in Bishkek illustrates the achievements of Soviet communism in Kyrgyzstan by its very existence as the national repository of Kyrgyz art, through its 1970s concrete-slab architecture as well as its outstanding Soviet art collection.
At every turn, the Soviet state declared that art should portray life in its everyday realities, be accessible to the masses and project a bright, communist future for humanity. Central Asian's Socialist realist art is largely on board. It celebrates this vision and slavishly reproduces classic Soviet themes, such as industrial modernisation, women's liberation, urbanisation or literacy, and the proletarian role models, including the teacher, the worker, the farmer or the party leader, who are often young and female.
At the same time, Central Asia managed to maintain a tenuous balance between its pre-Soviet cultural heritage informed by tradition and Islam and the atheist modernism imposed by Moscow throughout the 20th century. In practice, the region's physical distance from the administrative centre of the Soviet Union also frequently allowed its artistic community to experiment with themes and styles with less scrutiny from the state than would have been experienced by their colleagues in the European regions of the USSR.
Artists across Central Asia thus created images that both embraced modernity and idealised the past. Their Socialist realism takes on a certain Orientalist dimension, reminiscent of European colonial art seen elsewhere in Asia, Latin America or Africa, by romanticising local landscapes, faces and motifs drawn from traditional clothing and textiles. The result was a unique school of art that combines the monumentalism of Soviet art with Orientalist exoticism, local cultures and parochial nationalism.
Despite the Soviet epithets, such as "kolkhoz", the landscapes and portraits I saw in Bishkek, rendered in the bright colours native to Kyrgyzstan, poeticise the nature and people of this rural land. My favourite, Semyon Chuikov's The Daughter of Soviet Kirghizia, whom the Soviet propadanda made into a poster child of communism in Central Asia, is really a study of a village schoolgirl against the backdrop of Kyrgyz mountains. To me, the girl symbolises 'Kirghizia' itself far more than she does communism.