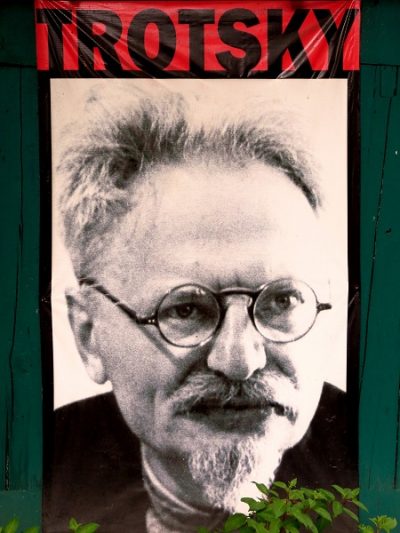 Frida & Trotsky: On neighbourhood watch in Coyoacán
A few blocks apart in Coyoacán on the outskirts of Mexico City stand former homes of Frida Kahlo and Leon Trotsky, both of them now museums. Filled with objects from the Mexican artist's and the Soviet revolutionary's everyday lives, the museums are unique places where the two respective figures lived and died – in Trotsky's case by the hand of a hitman who smashed his head with an ice pick in his own study. Both museums also serve as their protagonists' final resting place.
While Frida, confined to her family home, La Casa Azul, by her disability spent a great deal of energy trying to break out of those four walls and express herself through painting, Trotsky, hounded by Stalin and the Soviet state security apparatus as an ideological rival, made a conscious effort to wall himself in and survive in his Mexican exile for as long as he could. As two quintessential living spaces, both homes remain much as they were on the day their very different inhabitants died.
The centrepiece of La Casa Azul is Frida's sick bed – the artist's safe haven but also her stage. It's the same bed from which she presided over her only solo show in Mexico City in 1953 where she made a dramatic entrance on a stretcher. The way she fashioned her image made Frida a performance artist. In Trotsky's house, drama awaits in the study where he was murdered by Stalin's agent Ramón Mercader and in the bullet-riddled bedroom, the scene of a previous assassination attempt.
The two neighbours initially lived together in La Casa Azul where Frida and her husband Diego Rivera maintained a leftist intellectual circle. During this time, Frida and Trotsky pursued an affair but the clash of their egos, amplified by Frida's tempestuous marriage and pressure from Trotsky's wife Natalia, caused a fallout, after which the Trotskys moved out. Frida's flirtation with communism, as evidenced by portraits of Lenin and Mao in her bedroom, survived her break-up with Trotsky.
La Casa Azul is where Frida's possessions are interspersed with her art and her collection of pre-Columbian crafts. Particularly touching are the exhibits of her dresses with spine-straightening corsets which explore the intersection of her fashion sense and disability. Trotsky's house is similarly a treasure trove of Trotskyist memorabilia presented as an antidote to Stalinism. Trotsky may have come second to Stalin in the Soviet power struggle but even that was a crime punishable by death.