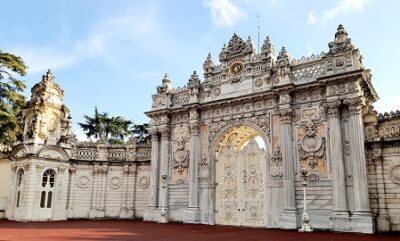 Dolmabahçe Palace: How to bankrupt an empire?
The Dolmabahçe Palace in Istanbul – the most opulent and final home of the Ottoman sultans – is an exercise in reverse psychology. In the 1840s when it was commissioned, the Ottoman Empire was in decline. To hide the fact and pretend that the Ottoman economy could absorb it, Sultan Abdülmecid I went on a building spree to the tune of today's 35 tons of gold. The palace construction went on to precipitate modern history's first sovereign default in 1875 and the empire's end in 1922.
None of this would, of course, take anything away from Dolmabahçe's blinding beauty. This isn't to say that I approached the palace without trepidation. The idea of an Ottoman sultan on a mission to impress the world was positively dread-inspiring. But despite the disclaimer listing 44 halls and 285 rooms gilded with 14 tons of gold and decorated with the world's largest collection of Bohemian and Baccarat crystal chandeliers, the Dolmabahçe Palace turned out surprisingly tasteful.
Dolmabahçe's waterfront location in Beşiktaş on the European side of the Bosphorus owes its notoriety to an original bay that was filled in to become an imperial garden. The site whose name means filled-in (dolma) garden (bahçe) was much beloved by the sultans who built mansions and kiosks here during the 18th and 19th centuries. The complex grew into the Beşiktaş Waterfront Palace which was then demolished by order of Sultan Abdülmecid I to make way for the Dolmabahçe Palace.
Sultan Abdülmecid I who ordered the palace in 1843 also did so to move the imperial court from the medieval Topkapı Palace to somewhere with modern luxuries. Modern then meant European and, true to form, the palace is a mono-block which breaks with the Ottoman tradition of living in a series of pavilions. It's a mixture of Baroque, Rococo, neoclassical and traditional Ottoman architecture where the designer of the Paris Opera was brought in for the lavish interiors.
The cost of this project would debase the Ottoman currency and force the empire to default on its public debt. While the world powers were setting up financial controls over the "sick man of Europe" and the Ottoman Empire was gradually losing all of its territory outside of Turkey, Dolmabahçe was home to the last six of the Ottoman sultans. During the early years of the Turkish republic, its founding father Atatürk used the palace as his Istanbul base. He also died in its harem in 1938.