Travelling for culture can sure lead to misunderstandings. Culture, on the one hand, represents the arts and other manifestations of human intellectual achievement regarded collectively. But culture also encompasses the customs and social behaviours of a particular people or society. As a cultural traveller, I am guided by both meanings of culture. I like to explore local arts but also customs and traditions of a local society that define it as an ethnic group or a nation.
Either way, I travel with a purpose. I do not set foot in a country to check it off my list and I do not visit a new location because it is hyped on social media. I do know why I wish to see a specific destination. This is why, as a cultural traveller, I never arrive anywhere unprepared. Preparation is key and I am often guilty of researching places to death. As an over-prepared cultural traveller, I sometimes struggle to be spontaneous, but I like to think of myself as an informed visitor rather than an uninformed tourist.
Yerevan: Modernism as Armenian identity

With Yerevan's construction boom broadly coinciding with Armenia's 20th-century Soviet history, modernism in this Caucasian capital isn't just an architectural period but an important part of the country's cultural identity.
Armenian genocide: Quite a hill to climb

Scaling Yerevan's imposing Tsitsernakaberd hill to reach the Armenian Genocide Memorial proves almost as taxing as getting to the bottom of the Armenian genocide itself. Honouring the tragedy, it turns out, is harder than denying it.
Siege of Sarajevo: War in the museum

Every history museum has been confronted with the topic of war and violence. In Sarajevo where such history is so recent and where the warring factions still live side by side, exhibits of war and violence come with pertinent questions.
Pařík: The man behind European Sarajevo

Once the largest Ottoman city after Istanbul, Sarajevo has since received a European makeover under the brief Austro-Hungarian rule. The bulk of this grand late 19th-century transformation was the work of Czech architect Karel Pařík.
Skopje: How to upcycle a Turkish bath

Skopje's two stately Ottoman-era public baths to the north of the Vardar River – the 15th-century Daut Pasha and 16th-century Čifte Hamams – have been skilfully repurposed as exhibition spaces for the National Gallery of Macedonia.
Skopje: An ancient city built yesterday

Out of the rubble of the 1963 earthquake has risen not a replica of Skopje's pre-war self like Dresden or a brutalist substitute like East Berlin. Instead, the capital of North Macedonia has re-imagined itself – wait for it – as an ancient Athens.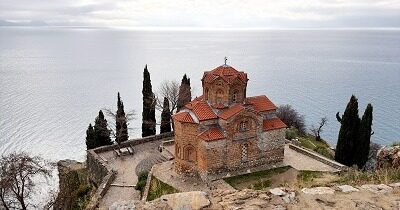 Ohrid: The Mecca of Macedonian Orthodox art

Ohrid's legendary 365 churches – one for each day of the year – are this medieval North Macedonian town's biggest draw. Plastered with Byzantine-style frescoes and studded with icons, the churches are jewel boxes of Eastern Orthodoxy.
Marubi collection: Albania glows in old photographs

The Marubi National Museum of Photography in Shkodër is a place like no other. The street scenes and portraits in its collection of three generations of early photographers are where Albania of old comes alive in mostly black and white.
Painting a dream: Albania in socialist realist art

Isolated from the West by default and from the East by paranoia, Albania was once "the only socialist country in the world" and it shows. Its socialist realist art, euphoric is it is, inches towards another world almost impossible to reach.
Sofia: Stalinist architecture still rules

Bulgaria's capital has its fair share of unapologetic Soviet-style monoliths. Among the finest are its very earliest – imposing structures designed to consolidate Soviet dominance and built to the highest standard before cynicism set in.
Pondering the saucer domes of Sofia

Resting on a squinch or a pendentive, the soaring saucer dome is the Bulgarian Orthodox church's most distinctive characteristic apart from the Greek cross ground-plan or the mosaics. In Sofia, the saucer domes dominate the skyline.
National Museum of Beirut mirrors Lebanon's past – and present

For a frequent museum-goer like myself, the ultimate test of a history museum is how much it says about the present in addition to the past. The National Museum of Beirut, Lebanon's premier cultural shrine, delivers on both.
Baalbek: More Roman than Rome

There are Roman ruins and there's Baalbek: the sheer size of this temple complex outstrips anything found in Rome itself today. This isn't out of place in Lebanon, a small country where you can barely move for ancient sites.
In the bizarre world of Soviet hotels

Architecturally, Soviet-era hotels were prime examples of megalomania which knew no bounds. The Soviets tore down entire blocks and drained swamps to erect buildings that came across as bleak but also atmospheric.
Central Asia's head-scratching national museums

The perennial questions of museology about what and how to exhibit in a country's national museum for maximum cultural impact seem to have been answered in Uzbekistan or Tajikistan not by curators but by the authorities.
Girl Meets Tractor 2.0: Central Asia

The Soviet art of Central Asia is a unique school of art. Like European colonial art, it retains the monumentalism of Soviet art but also romanticises local landscapes, faces and motifs drawn from traditional clothing and textiles.
Kyiv's National Museum of Art holds its own

The National Art Museum of Ukraine presents a collection that spans at least a thousand years. It showcases a culture with deep roots in Slavic Orthodoxy and a shared European experience but also one with a distinct identity.
Amman: Jordan's induction into Roman ruins

Despite the ever changing hands and the cataclysmic destruction in a quake, Amman's surviving ancient structures have a Roman feel. In a country where Roman ruins reign supreme, this city ought to be everyone's first stop.
Hunting for the sapeurs in the streets of Congo

Even before I set foot in either of the two Congos, I had a fascination for the sapeurs, a subculture whose faithful dress for the life they want rather than the one they have. Once there, finding a sapeur became an obsession.
Erell turns Brazzaville into Paris du jour

Brazzaville, until 1940 a colonial backwater, became the capital of the Free French after the Fall of France and suddenly the pressure was on for the city to look the part. Enter Roger Erell, Brazzaville's famous architect.
Opening soon: Kinshasa's new national museum

If any one country in Africa should be obliged to showcase its cultural treasures by way of a national museum, it is the Democratic Republic of the Congo, if only for its visually stunning and spiritually charged tribal art.
Fally Ipupa in Kinshasa: My brush with Congolese rumba

The Democratic Republic of the Congo (DRC) boasts some of Africa's worst politicians – and best musicians. No visit to Kinshasa is said to be complete without a brush with Congolese rumba. Mine was with Fally Ipupa.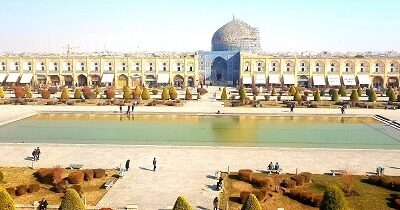 Isfahan's Shah Square looks the part

With some of the best Persian architecture – both religious and secular – on record, Isfahan's Shah or Imam Square – depending who you ask – is one the grandest public spaces you'll find anywhere in the world.
Tehran: Azadi Tower, hanging from the night sky

A fixture of Tehran's skyline and a backdrop to Iran's most turbulent political events, the Azadi Tower is an ingenious design. The inverted Y-shaped structure combines modern and traditional Iranian architecture.
Carpet-bombed at Carpet Museum of Iran

Sightseeing in Iran is not only about an aesthetic overload from seeing too many beautiful Persian carpets everywhere but also about finding yourself one step ahead of a carpet seller at every turn.
Cairo: Old Egyptian Museum's last rites

As the opening date of the state-of-the-art Grand Egyptian Museum in Giza looms, Cairo's old Museum of Egyptian Antiquities with its iconic pink façade and its dusty warehouse vibe deserves a final peek.
Sudan National Museum packs a Nubian punch

Covering all periods of Nubian civilisation, Khartoum's Sudan National Museum has monuments to the Egyptian pharaohs and the kings of Kerma, Kush and Meroë alongside medieval Christian frescoes.
Cheering the Nuba wrestlers in Khartoum

Two wrestlers circle one another inside the ring bowed forward. The men wait for the perfect moment to lunge. The first match of the weekly Nuba wrestling tournament in Sudan's capital Khartoum is on.
Maputo: Tropical modernism of Pancho Guedes

Despite a long civil war and an equally destructive onslaught of Chinese-built highrises, Mozambique's capital Maputo retains a modernist edge that continues to attract students of architectural history and design.
Uganda Museum: Crumbling design masterpiece

African museums are notoriously cavernous affairs, struggling with funding and relevance. Western tourists visit them largely out of duty because to them visiting a local museum in a new country is a conventional activity.
Dolmabahçe Palace: How to bankrupt an empire?

The Dolmabahçe Palace in Istanbul – the most opulent and final home of the Ottoman sultans – was built to hide the empire's decline. Instead, it precipitated modern history's first sovereign default and the empire's end.
Love, life and Istanbul in objects
In the Çukurçuma neighbourhood of Istanbul, there is a museum of items that come straight from a work of fiction. The Museum of Innocence is possibly the oddest such institution I have ever visited anywhere.
Hagia Sophia: Unique, contested, awe-inspiring
Hagia Sophia's Christian frescoes and mosaics, Islamic calligraphic slates and the large dome perfectly sum up the history of three cities this building represents: Byzantium, Constantinople and Istanbul.
Caravaggio's triumph in Dublin
Caravaggio's Taking of Christ may be the darkest, densest and the most claustrophobic of his works. It now hangs at the National Gallery of Ireland in Dublin where it miraculously re-emerged after centuries in limbo.
Wagah border post: A nationalist shrine, or make that two
At the border crossing in the Pakistani village of Wagah along the super militarised Pakistan-India frontier, a remarkable scene repeats itself every evening. Crowds from the two countries gather to hold raucous rallies, side by side.
Karachi: Big money, big Chaukhandi tombs
Built mainly during Mughal rule in the 15th and 18th centuries when Islam became dominant in southern Pakistan, the Chaukhandi tombs on the outskirts of Karachi are notable for their elaborate sandstone carvings.
A slum break in old Karachi
Karachi, Pakistan's first capital and modern metropolis, is no one's idea of a city break. It's not that the city is lacking in history or heritage sites, it's rather that its historic centre resembles one massive slum.
Oslo's Rådhuset: Far from ordinary
As a child, when I knew nothing of functionalism, I wondered why such an ordinary-looking building as Oslo's red-brick city hall, or Rådhuset, was celebrated alongside the city's Royal Palace.
Paying homage to Malawi's comic strongman
As far as African dictators go, Dr Banda, a medical doctor by profession, stands apart from his more hardcore, more deranged and more murderous contemporaries as a more level-headed if slightly comic character.
Rwanda: Living with the genocide

In Rwanda just about anyone you meet in the streets today who is old enough to have been around in 1994 is a survivor or somehow related to survivors of the country's genocide.
Kigali's 'House of Horrors' turned art museum
Tourist sites sometimes miss their purpose and what would once have been Rwanda's most bizarre spectacle, the Presidential Palace of former dictator Juvenal Habyarimana, has morphed into a sterile Rwanda Art Museum.
Pondering Ethiopia's communist legacy

Communist ideology was a strange fit for a country that was so deeply steeped in religion and one that had always resisted foreign domination. In the end, the communists in Ethiopia engendered mostly famine, poverty and repression.
Lawren Harris and the Canadian identity

While the work of Lawren Harris is little known outside of Canada, the artist's stature in his homeland and his influence on the country's national identity are truly iconic.
Time travel to medieval France in Montréal

One doesn't exactly expect a fully-fledged religious epiphany on a standard tourist itinerary but that's just what happened when I visited the basilica Notre-Dame de Montréal.
Nam June Paik: Seoul-searching through vintage TV screens

South Korea's most famous artist Nam June Paik is known for installations of multiple televisions in out of place settings, with his video art focusing more on the medium than its content.
Beijing/Taipei: China's imperial palace inside and out

Beijing's Forbidden City is all about exteriors, with the interiors of individual halls and chambers giving the impression it's just been burgled. Which brings me to the National Palace Museum in Taipei.
Shanghai: Home of Chinese propaganda

In a world of conformity that is the People's Republic of China, a visit to the private, makeshift and semi-legal Shanghai Propaganda Poster Art Centre is the closest thing you'll get to an adrenaline rush.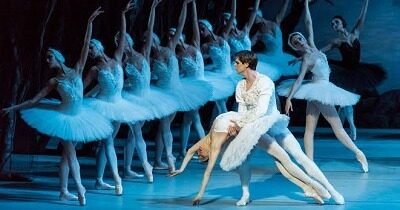 St Petersburg: Two white nights at the Mariinsky

St Petersburg's famous white nights, most prominent in June, also coincide with the city's prime White Nights ballet and opera season. This is when I visited and elbowed my way into the Mariinsky Theatre.
Pondering the onion domes of Russia

Nothing says Russia louder like the bulbous, candy-coloured domes of its Orthodox churches: they are both a distinct feature of Russian religious architecture and ubiquitous across the country.
Vasily Surikov: Russia's textbook painter

Vasily Surikov's realist artworks, I've been told by several Russians, have become familiar to the general public in their country through their use as illustrations in history textbooks.
Trip into space from a Moscow suburb
Today there isn't much left of the Soviet Union's cult-like love of all things cosmic. What is left is concentrated around the Monument to the Conquerors of Space and the Memorial Museum of Cosmonautics in a north-eastern suburb of Moscow.
Girl Meets Tractor 1.0: Moscow
I have a confession to make: My name is Roman and I have a thing for Soviet art. To be precise, my morbid fascination is with socialist realist art. The place to binge is Moscow.
The Worker and Kolkhoz Woman: Moscow's Soviet icon 
The Worker and Kolkhoz Woman in Moscow's VDNKh exhibition grounds, easily the most recognisable of Soviet monuments, portrays the union of the workers and peasantry in the USSR.
Pop art in Uccello's Battle of San Romano

The cartoonish quality of Paolo Uccello's majestic Battle of San Romano antedates many later artistic developments. In the mid-1400s, when it was painted, the picture must have seemed as sensational as it does today.
Cimabue reaches for Renaissance

Great Britain's only Cimabue, The Virgin and Child with Two Angels, which hangs at the National Gallery in London, suggests that the transition from medieval to Renaissance art was fluid rather than sudden.
Unfinished business: Manchester Madonna
Some artworks are left incomplete by design, others by accident. In the case of Michelangelo's unfinished Manchester Madonna, which hangs at the National Gallery in London, the reason is still a mystery.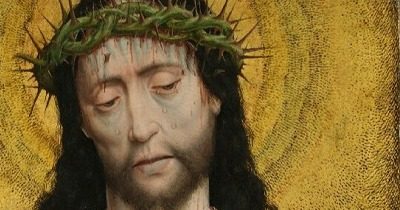 Bouts's Flemish Christ: A rugged individual

Dieric Bouts's Christ Crowned with Thorns is a highly individualised representation of Jesus – without the dramatic impact of Italian Renaissance or clinical sterility of medieval art.
Papua New Guinea: It still takes a village

The Hobe tribal village, like thousands of others in Papua New Guinea, has changed little despite four colonial occupations and thousands of years of human habitation since prehistoric times.
Sydney Harbour Bridge: Full of rivets and riveting

Soaring above Australia's most iconic urban landscape, the Sydney Harbour Bridge – the world's widest long-span and tallest steel arch bridge – is an undisputed symbol of the city and the country.
MCA Australia: Aboriginal art made contemporary

Contemporary art can be reinvented from familiar parts and the Aboriginal artists at the Museum of Contemporary Art (MCA) Australia in Sydney manage to transcend this familiarity with ease.
Art Gallery of NSW: Sydney's go-to art museum

The Art Gallery of New South Wales (NSW) presents an outstanding permanent collection of Australian art, heavily rotated due to its size, with a steady stream of blockbuster touring exhibitions to boot.
This Auckland museum tells the story of New Zealand

The Auckland War Memorial Museum tells the story of New Zealand as a nation from its Maori origins and in the wider context of the Pacific Islands. Its displays of Maori and Pacific treasures are essential viewing.
Lima: Franciscan monastery for the bone collector

Most tourists visit Lima's St Francis Monastery for its catacombs. The underground ossuary is home to an estimated 70 000 bodies, many of exposed and neatly stacked in strange patterns in circular stone pits.
Asunción: Paraguay's house of horrors

Housed in an unremarkable building in the old Asunción, the Museum of Memory was once the centre of state-sponsored torture and murder of political opponents during the dark period of Paraguayan history.
In Bogotá: Among Botero's plump ladies

A signature style, like any brand, sets artists apart and makes them instantly recognisable. By this definition, Boterismo – depicting people, animals and objects in exaggerated volumes and proportions – is unmistakable.
São Paulo's floating art museum
Right in the middle of the concrete jungle that is São Paulo, where high crime rates dictate that buildings be heavily fortified and where walking is not really an option, stands a true symbol of freedom.
São Paulo's treasure trove of sacred art
One of the best displays of rare Luso-Brazilian sacred art is the Museum of Sacred Art of São Paulo, located in the historic Luz Monastery founded in 1774 and preserved to absolute perfection.
Rio de Janeiro's show of anxiety-busting comics
Brazilian artist Victor Arruda painted in order to deal with his anxieties. His nightmarish imagery, on display in Rio's extraordinary Museum of Modern Art, brings his unconscious to his conscious mind.
Rio's Christ without the crowds
By a stroke of luck, one early morning I had Brazil's cultural icon and Christianity's global symbol all to myself before thousands of selfie stick-carrying believers and non-believers streamed in.
Templo Mayor: Mexico City's Aztec slaughterhouse

Only recently excavated Templo Mayor, the former centre of Aztec religion, is an open-air museum marking the spot with the famous eagle perching on a cactus with a snake in its beak – the symbol of Mexico today.
Frida & Trotsky: On neighbourhood watch in Coyoacán

A few blocks apart in Coyoacán on the outskirts of Mexico City stand former homes of Frida Kahlo and Leon Trotsky, both of them now museums filled with objects from the artist's and revolutionary's everyday lives.
Teotihuacán: Mexico's mysterious megapolis

Teotihuacán, one of Mexico's biggest draws, has an uncertain provenance. For a city believed to have once been the most populous in the Americas, little is known about its rulers or the circumstances of its collapse.
Borobudur: Indonesia's sublime Buddhist hike

At Borobudur, the world's largest Buddhist temple, theology and geometry instruct pilgrims towards the ultimate enlightenment. Devotees ascend the site towards higher states of consciousness.
Ayala Museum: Manila's best immersive experience

Superbly curated, Ayala Museum in Manila is one of those multi-dimensional exhibition spaces where sections of seemingly unrelated material paint a full picture – in this case of Philippine art, culture and history.
Philippines: Adopted home of American abstraction

Filipino artists have long remained current with international trends and a visit to the National Museum of Fine Arts in Manila reveals one of the global pockets of Western-influenced abstraction dating back to the 1940s.
Milan: Mantegna's hyper-realist Christ

This revolutionary take on the Lamentation over the Dead Christ from Andrea Mantegna comes very close to the hyper-realism of the 20th century with its use of colour, detail and dramatic perspective.
Amsterdam: Perfect Mozart at the Concertgebouw

Dolf van Gendt, the acclaimed architect of Amsterdam's Het Koninklijk Concertgebouw, although considered to be completely devoid of musical talent, was able to create a perfectly resonant concert hall.