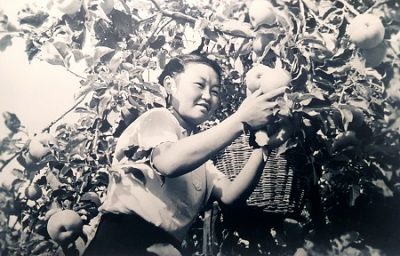 Almaty: Kazakhstan's Big Apple

Forget New York when you think the Big Apple because the place on your mind should be Almaty. Kazakhstan's former capital, then called Alma-Ata or "the father of apples", is the only place in the world where apple trees grow wild, densely entangled in natural apple groves. The slopes of Almaty's Alatau peaks are the origin of all apples and the city touts this fact with pride. Laid out on a grid with monumental architecture and plenty of green spaces in between, Almaty is also a crown jewel of Soviet town planning.
Speaking of planning, I arrived in Almaty just before New Year's when the city shuts down to reel from the freezing cold. I checked into Hotel Almaty, a Soviet-era gem, that had me covered with spectacular 1960s mosaics on the outside walls and a first-class Alma (or Apple) Museum in the foyer. The Enlik-Kebek mosaic that tells a Kazakh folk tale of star-crossed lovers turned out to be one of the best in town as did the museum that tells the story of Almaty's apples with fantastic photographs from every decade.
"Almaty's giant wild apples, which can weigh up to 1kg (!), were a common sight all over the USSR and the aroma from such apples would reportedly fill the entire home"
The common supermarket apple can apparently be traced to one specific region of the world. The first apple seeds were transported out of these wild groves by birds and bears before humans began to cultivate them. Almaty's giant wild apples, which can weigh up to 1kg (!), were a common sight all over the USSR and the aroma from such apples would reportedly fill the entire home. Many of the apple trees have been cut down for their wood and the orchards are still falling prey to developers and high rises.
Almaty's sprawling layout needs a lot of legwork but this model Soviet city is well worth it. Its vast government buildings, fearsome war memorials, the signature metro, the space-age state circus or the iconic 26-storey Hotel Kazakhstan – all decorated with mosaics and reliefs – couldn't have been built without the right connections to steer Moscow funds in Kazakhstan's direction. This would have been achieved by virtue of Kazakhstan occupying Central Asia's only seat in the all-powerful Soviet Politburo.
Almaty's spiritual centre lies in its much vaunted Panfilov Park. The religious folk once again flock to the city's Ascension (or Zenkov) Cathedral, a colourful wooden church of many lives and great beauty. One of the few tsarist-era buildings in Almaty, it survived both Stalin and a massive earthquake. In communist times, the place to be was the nearby socialist-realist memorial depicting, in exquisite sculptural detail, soldiers from all Soviet republics bursting out of a map of the USSR beside an eternal flame.
The Kök-Töbe hill in the city's southeast corner sports a neatly illuminated TV tower, visible from far and wide, and a small amusement park. To reach it, I grabbed Almaty's swanky cable car which takes all of six minutes to glide high above the city, not nearly enough to absorb the views. It's a different world up there, quiet and gleaming with unpoluted snow, with a Kök-Töbe-branded photo frame at the edge. There I captured just a dense winter cloud where you would rather see a pretty Almaty cityscape.